Ciliegie in alcol
In every family of our territory there is, for generations, a mother, an aunt or a grandmother who puts cherries in the spirit, precious and tasty way to extend beyond the season the pleasure of eating this delicious, delicious and voluptuous fruit , perhaps with ice cream or simply in a bowl after Sunday lunch, as a digestive.
280gr jar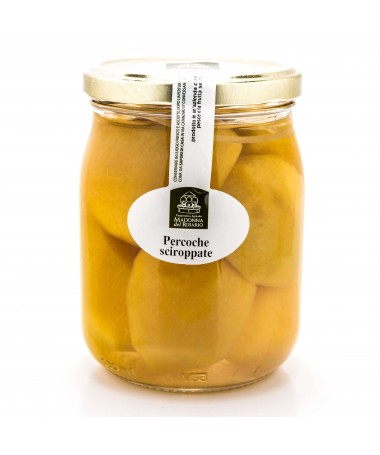 Percochi sciroppati
Every year summer gives us so many fresh and colorful peaches, so many, that the old generations had the idea of making a delicate and fragrant syrup, simply adding water and sugar. We savor them in all their goodness in combination with ice cream, chocolate creams and even in the winter a peach cheesecake!
They are perfect even for sun as a snack

500gr jar
Uva in alcol
Grape in spirit is a typical Italian preparation and mainly of the Apulian territory. We use it as a dessert, to flavor the desserts, the puddings and cakes or to give an alcoholic touch to a simple fruit salad.
720gr jar